9 June 2020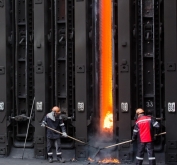 Avdiivka Coke Plant is in progress of repairing coke oven batteries ## 5, 6, 7 and 8. The plan for this year is to renovate 70 coking chambers. Their refurbishment will increase the output of blast furnace coke by 1,000 tonnes per day. To renovate the ovens, Metinvest Group will allocate UAH 280 million.
Military actions in Donetsk region have had a negative impact on the condition of production facilities due to the proximity of the plant to the demarcation line. Because of interruptions in the power supply, the plant had to stop fifteen times, thus causing sever temperature drops in the coke ovens. This resulted in the destruction of coking chamber brick lining and had a direct impact on the operations of core production shops.
To bring the production process back to normal, 27 coking chambers have been refurbished year-to-date. Coke oven batteries are repaired on their both sides at the same time without shutting down the operations. Such approach helped not only reduce the refurbishment time, but also give job to additional 100 contractor employees.
By the end of the year, the coke plant workers plan to renovate five coking chambers by applying a special zero-expansion concrete. The new technique of German Fosbel, an expert in using heat resistant concrete for hot maintenance of coke oven batteries, allows to speed up the maintenance work 2.5 times compared to the conventional relining.
The repair of the coke oven brickwork will improve gas tightness of coking chambers to minimize the intrusion of raw coke oven gas into the heating system and reduce air emissions by 20%.
Vitaliy Litovka, the General Director of Avdiivka Coke Plant:
- Avdiivka Coke has been steadily modernizing its operations. We use the lead world practices to renovate the facilities and repair the coke oven batteries using new German technologies. Despite the fact that plant is located in the military action zone, we continue to build and work efficiently. The four thousand workforce of the plant as well as the steel mills in Mariupol and Zaporizhya are dependent on the performance of Avdiivka Coke, which ultimately determines the economic stability of Ukraine.