5 June 2020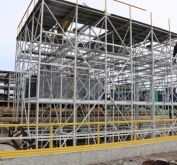 A modern cooling tower is under construction at Metinvest Group's Avdiivka Coke Plant. The structure cools the process water for chemical production process. Investments in modernization will amount to more than UAH 10 million.
The equipment will be installed in accordance with international environmental standards to reduce the environmental impact of production processes and improve the quality of the water recycling system through the design of a new water distribution system.
The new cooling tower developed by Turkish company Cenk, one of the world's leading manufacturers of heat exchange equipment, will be erected at the Water Supply Shop. It will replace cooling tower No.10, which was decommissioned due to damage caused by shelling in 2015.
The modern design of the new equipment minimizes the need for fresh water. The cooling tower will improve cleaning of coke gas and reduce emissions into the atmosphere. The unit consumes half of electric power vs. the old equipment, which will save UAH 80,000 per month. The cooling tower is made of durable polymer plastic resistant to corrosion and ultraviolet light.
Vitaly Litovka, General Director of Avdiivka Coke Plant:
"Now we are engaged in the resumption of full-fledged operation of the enterprise, we carry out large-scale repairs, and modernize production facilities. This will improve work processes and working conditions. This year's plans include the overhaul of coke oven batteries, repair of chemical facilities, and the upgrade of trucking and railway car fleets. In total, Metinvest will allocate UAH 800 million for repairs and modernization this year."