20 May 2020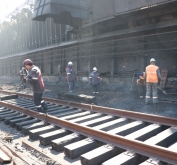 Avdiivka Coke continues to be overhauled and modernized. Upgrades ensured stable operation of Coke Shop No. 1. In total, Metinvest Group has planned to invest approximately UAH 800 million in modernization and repairs in 2020.
Twenty-five coke ovens were commissioned in April following their scheduled overhauls. In addition, the dedustung system was replaced at the premises of the loading station, which is necessary for cleaning the air - capturing dust and small particles. Partial repair of the site of the door extracting machine has been carried out. Coke makers replaced 100 meters of the quenching car track. The bins were upgraded in the coal charging car.
Regardless of the two major shutdowns of main process equipment for the overhaul, coke makers exceeded the April plan and produced 202,000 tons of blast furnace coke, which is 101% of the planned volume.
"Avdiivka Coke is the largest coke plant in Europe, the main producer of coke in Ukraine. The operation of the Mariupol and Zaporizhya steel mills depends on the stable work of our enterprise. We sustain core product making, continue overhauls and modernization of production facilities, improve the territory of the enterprise and workplaces, all in spite of the economic challenges and coronavirus pandemic," said Vitaly Litovka, General Director of Avdiivka Coke Plant.