23 May 2019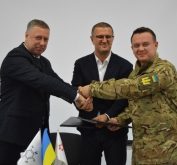 Inkor & Co of Metinvest Group, Novhorodske Settlement Council and Toretsk Civil-Military Administration signed a social partnership agreement for 2019. Around UAH 8 million will be invested in social programs of the settlement and the town.
Over seven years of cooperation, Inkor & Co has invested around UAH 20 million in the creation of decent living standards in Novhorodske. A large-scale project aiming to transfer Novhorodske to an autonomous heating system was completed last year. Joint efforts of local authorities, community and the enterprise made Novhorodske energy independent. Plant's employees installed heating boilers in 201 apartments of locals and built a boiler house for the school. The plant also helped switch other social facilities to individual heating systems. The project on transferring Novhorodske to the autonomous heating system won the regional competition for The Best Local Governance Project.
Inkor & Co will continue to sponsor the settlement, town and their residents, this year. The plant will allocate funds for developing design and estimates for the construction of drinking water boreholes and for obtaining permits for the creation of an autonomous water supply system in Novhorodske. At school #16 that ranks first in the settlement in terms of the number of students, they will repair a school canteen and catering facility and furnish them with furniture and equipment. A new sports ground with artificial surface and play components will be opened in the Dyvotsvit kindergarten. The enterprise will repair a gym and complete it with fitness equipment, and furnish a trainer's room with furniture. Inkor & Co jointly with the settlement will arrange a social hub for Novhorodske community and invest in the development of design and estimates for the reconstruction of outdoor lighting lines to illuminate Zarechnaya Street and residential area nearby phenol plant.
The enterprise sponsored a competition of social projects aimed at landscaping yard sides and inside premises, and developing street arts in Novhorodske and Toretsk. Residents were awarded grants from Metinvest to implement their ideas.
Musa Magomedov, General Director of Inkor & Co,
"Our management company Metinvest invests in the development of Inkor & Co, provides jobs and stable salary to almost 600 residents in Novhorodske and neighbouring settlements, pays taxes to the local budget in a timely fashion, and supports the settlement and the town. Because Inkor is an integral part of Novhorodske, and Novhorodske is an integral part of Toretsk. I am sure that our joint efforts and hope for the better future will help us make the settlement and the town more comfortable to live in."
Yaroslav Rudenko, Head of Civil-Military Administration of Toretsk,
"Cooperation with the plant plays an important role in community development. This year, when a competition of social projects among residents of Toretsk was announced, they were very pleased. We received feedback and great results. We see huge potential in all projects for both residents and administration. It is really great that towns at the frontline receive such support from business."
Nikolay Lenko, mayor of Novhorodske Settlement,
"We solve all the strategic issues associated with settlement development jointly with the plant management. This year's projects are also important for the settlement. I'm grateful to Metinvest and Inkor & Co management for support they provide to the community. Although the enterprise operates under extremely difficult conditions within the armed conflict area, a large amount of money is invested in the development of Novhorodske."