25 February 2019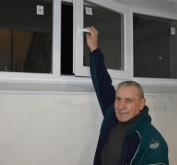 By the initiative of Musa Magomedov, General Director of Avdiivka Coke, the competition for the best projects on the improvement of surrounding grounds of condominiums expands its boundaries. Now, not only Avdiivka residents have the opportunity to bring their ideas to life, but also the residents of Toretsk and Novhorodske.
The competition is conducted in partnership with local military-civil administrations and the rural councils. This year Metinvest will channel UAH 3.1 million to the implementation of the projects.
Associations of condominiums, non-commercial and charitable organizations, and residents can take part in the competition.
Project financing ranges from UAH 50,000 to UAH 200,000. Applications with the largest own contribution of the applicants will be prioritized. The contribution can be both financial and non-financial – labour, volunteer, and logistical.
The areas of the competition include: landscaping of house adjoining territories and yards, development of street arts (aerosol art, graffiti).
Musa Magomedov, the General Director of Avdiivka Coke Plant:
"We are happy that our initiative received many responses from Avdiivka residents this year. We saw that our city residents desire to change their lives for the better. We are willing to render financial support to their initiatives, and interesting and important projects. Given such proactive attitude, we decided to increase the prize pool of the competition and expand its boundaries. This year the competition will be held in Toretsk and Novhorodske, where Metinvest Group's phenol plant is present."
The applications are welcome until 29 March 2019. More details can be obtained by phone 067-621-03-11 or in social media Metinvest Avdiivka and Metinvest Novhorodske.