17 January 2019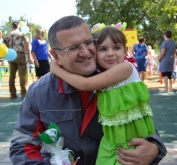 Avdiivka Coke Plant (AKKhZ) of Metinvest Group has allocated UAH 6 million in 2018 to support schools and daycares in the city. More than two thousand children of Avdiivka have comfortable conditions today for their training.
The enterprise has been keeping its promise to the citizens to repair one gym a year until all gyms are brought to the European standards. Last year, the gym in city school No.6 was modernized to have changing rooms and showers.
Repair works continue at school No. 5, where children and youth development centre was established. The new gym and meeting hall have become popular among the people of Avdiivka, and many city events are held there. Last year, the enterprise workers repaired a gym for aerobics and rooms for the centre specialists. It now offers its space to the sports school for children and youth and a Sports For All municipal company.
Avdiivka Coke supported Teremok kindergarten to repair their meal cooking facility and purchase equipment. The first Ukrainian style canteen was organized in school No.1 located in the old part of Avdiivka city. New furniture was purchased for the kitchen and dining hall.
The basement that was not used for a long time at Cheburashka kindergarten was turned into a multifunctional sports ground with synthetic turf that is safe even for little kids.
Musa Magomedov, the General Director of Avdiivka Coke Plant:
"We have been supporting educational establishments for many years now to create comfortable teaching and training conditions for children in Avdiivka. No matter how difficult it can be sometimes, the most pleasing things are the end result and happy faces of children."
Pavel Malykhin, the head of Military and Civil Administration in Avdiivka:
"Neither the authorities, not the enterprise divide daycares and schools based on whether they are located in the downtown area or in the outskirts. Children are all the same everywhere. That is why we remodel educational establishments both in the old and new parts of Avdiivka. We have complete understanding and respect for the management of Avdiivka Coke. There is no issue that we could not address together."
Avdiivka Coke allocated over UAH 18 million to finance social programs in 2018. The funds were used to support education, healthcare, culture and sports, and develop the municipal infrastructure.