27 December 2018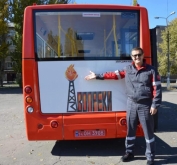 Musa Magomedov, the General Director of Avdiivka Coke Plant summarized the results of Social partnership programs implementation. The enterprise completely fulfilled its obligations before the residents of Avdiivka. This year Metinvest allocated more than UAH 18 million for social programs.
The plant helped the school No. 6 with a modern gym with changing rooms and showers, and one of the oldest schools in the city - school No. 1 with a canteen in the Ukrainian ethnic style. New multifunctional sports and playground with artificial turf was opened in the kindergarten "Cheburashka", the kitchen was repaired in the kindergarten "Teremok". Repair work is undergoing at school No. 5, this school will be basis for establishing the Center for children and youth development.
This year one of the significant and large-scale projects was completed - the capital repair and equipping of the Neurological Department of the city hospital. Avdiivka Coke also donated another passenger bus to Avdiivka, which helped improve transportation and improve passenger flow.
The coke plant continues to develop sports in the city. The plant helped with construction of a new basketball and volleyball court at the city stadium, organization of football and tennis tournaments with participation of local residents and also athletes from other cities of Donetsk region and Ukraine. The plant is moving towards fulfilling a dream of many residents of Avdiivka - a swimming pool: the design works were started after conducting the tender.
This year, Avdiivka Coke initiated a "Change Avdiivka Together" competition of residential areas landscaping projects. The enterprise supports gifted children of the city: straight A-students and Olympiad winners.
In spite of challenging economic situation, Avdiivka Coke remains the major tax payer of Avdiivka, continues provision of heating to the city at the lowest prices in Ukraine.
Musa Magomedov, the General Director of Avdiivka Coke Plant:
"In spite of time, in spite of circumstances we have not stopped development of production. We provide jobs and stable salary to almost four thousand residents of Avdiivka and neighbouring settlements. We render assistance and support to the city. We have started active work onnext year's social projects. I am sure, due to the fruitful work of the city and the plant, we will successfully implement our plans."
Pavel Malykhin, the head of Military and Civil Administration in Avdiivka:
"Avdiivka Coke invests significantly to various social projects and does everything possible to make life in Avdiivka pleasant and comfortable. We will work, we will move together, and everything will be Ukraine!"