28 November 2018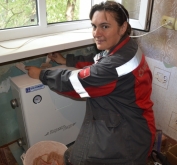 The project on transferring Novhorodske to autonomous heating system won the regional competition for The Best Local Governance Project.
The relevant summary about the results of the competition was signed by the head of the civil-military administration Aleksandr Kuts.
Novhorodske settlement council was announced the winner in two nominations: Improving Community Economic Self-Sustainability for the project on transferring the settlement to autonomous heating, and Improving Service Quality for Population for the project on autonomous street lighting.
In 2017, the management of Inkor & Co of Metinvest Group together with the local authorities decided to make Novhorodske energy independent. Individual boilers for residents were installed in 182 apartments by the enterprise workers, while the settlement and the city authorities committed to provide heat for social facilities. Today this large project is close to completion.
The enterprise funds were used to build a boiler house for the local school. The enterprise also helps transfer other social facilities to individual heating systems. The reconstruction of the heating system in the library, fight club, music school and the local clinic is in progress. Due to joint efforts of the management of Inkor & Co, the settlement council and civil-military administrations of Toretsk and Donetsk region, funds were allocated from the regional budget for the installation of the individual heating system in Novhorodske hospital, where the work has already been started by the contractor. Over two years, Metinvest has invested UAH 7.5 million in the project.