5 February 2018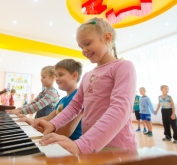 Avdiivka Coke Plant (AKKhZ) of Metinvest Group has allocated UAH 14 million over five years of cooperation with the city to support schools and daycares. About two thousand children of Avdiivka have comfortable conditions today for their training and development.
Coke-makers renewed all pre-school institutions in the city. The coke plant renovated music rooms, water closets and play rooms in Malysh and Kolokolchic daycares, and remodelled the gyms in Teremok and Alyonka daycares. Avdiivka Coke workers improved the yard at Cheburashka daycare, and installed new windows and doors in Skazka daycare.
With the support of the city-forming enterprise the schools of Avdiivka remodelled their meetings halls and gyms, canteens, repaired lobbies and sanitation facilities. The children's arts centre was also repaired with the help of the coke plant.
Modern street lights were installed around all educational institutions in the city; some daycares and schools had their old windows changed for reinforced plastic windows. AKKhZ helps improve school equipment each year buying furniture, notebooks, sports equipment and gear.
Following the heavy shelling of 2015, the plant helped restore three school and four pre-school buildings, a night and a music schools and other social facilities that had been damaged by shelling.
Pavel Malykhin, the head of Military and Civil Administration in Avdiivka:
- The coke plant always participates in the life of the city and looks in the same direction with us. Joint efforts help renovate not only educational but also health care facilities, develop the municipal infrastructure and create conditions for active life in Avdiivka.
Musa Magomedov, the General Director of Avdiivka Coke Plant:
- We work for the future of Avdiivka and its people. Our priorities include descent and comfortable conditions for raising and teaching children in Avdiivka. There is still a lot to be done. We will work as one team, and we will surely do it.