5 September 2017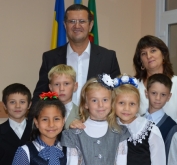 Avdiivka Coke Plant (AKKhZ) finished capital repairs in two schools of Avdiivka. Metinvest Group allocated UAH 2 million for their renewal.
By the start of the school year, the plant workers repaired the lobby, coat storage and sanitary rooms in school No.1 located in the old part of the city. Avdiivka Coke purchased new furniture for changeover rooms including benches, lockers for boots and coat racks. Toilets were repaired in school No.6.
This is not the first time the plant helps these educational establishments. Coke plant workers installed new metal-plastic windows in school No.1 and purchased notebooks for their computer room. The meeting hall was renovated in school No.6.
Musa Magomedov, general director of Avdiivka Coke:
- We do everything we can to make schools descent and comfortable for children in Avdiivka. This year the plant has several projects of this kind with educational establishments to repair two schools and three day cares. We made it our goal to complete renovation works in schools before September 1 so the kids could enjoy their new school year. Very soon the kids in day cares will get their surprise.
As a reminder, Avdiivka Coke has invested UAH 11.9 million this year into the development of the city, of which UAH 5 million were allocated for the repair of educational establishments.