24 May 2017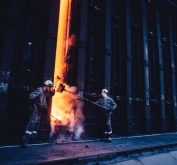 On May 24th, Avdiivka Coke Plant of Metinvest Group had its eighth coke oven battery in operation to produce the goods. This is the first time in three years that Avdiivka Coke is running at full capacity.
Following the intensive shelling in August 2014, Avdiivka Coke was left without power supply and had to mothball its production facilities. Rapid temperature changes caused damages to lining bricks of coke oven battery No.8. Using in-house resources, the plant workers were able to rectify the damages, yet regular disruptions in the power supply would not allow to put this facility into operation.
With the construction of new high-voltage power lines Central-Avdiivka Coke and Kotlyarevsky-Avdiivka Coke, the plant now has an opportunity to put back into operation all equipment that had been previously idled.
The operation of coke oven battery No.8 will help the plant to ramp up the production of blast furnace coke to 8.5 thousand tons per day.
Musa Magomedov, the General Director of Avdiivka Coke Plant:
— Hot mothballing had a negative impact on the condition of the coke oven battery, heavily affecting all coke ovens. It is difficult to predict what the coke oven battery performance will be. Most likely, we'll be facing new repairs. And yet, putting the coke oven battery back into operation is a remarkable event for the whole city.
As a reminder, Avdiivka Coke Plant has been in the combat zone since June 2014. Over 320 shells have exploded on the territory of the plant. Twelve plant workers were killed and over 50 were injured. Avdiivka Coke had to stop its operations 15 times and face power outages over 200 times.