8 August 2016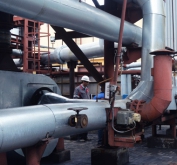 Metinvest Group commissions a thermal and catalytic afterburner at Avdiivka Coke (AKKhZ) designed to reduce emissions by tar distillation shop of the enterprise. Project investments total about UAH 6.5 mln.
Despite the difficult situation in Avdiivka and interruptions in the power supply from time to time, Metinvest Group continues to modernize Avdiivka Coke. Set-up and commissioning of the catalytic detoxifier of ventilation emissions are currently in progress at AKKhZ. It is a top-notch system of this kind in the country.
The operating principle of the system is simple: polluted air gets into a special heat exchanger, is heated to a required temperature and is then directed to the catalyst. Organic compounds are fully cracked there into carbon dioxide and water. As a result, emissions include only safe substances.
Set-up and commissioning of the thermal and catalytic afterburner are performed by the specialized company Promteploecopomosch, LLC. Its commissioning is scheduled in the second half of August.
Yuriy Ryzhenkov, Chief Executive Officer of Metinvest Group:
One of our most important objectives is to have clear sky above the mills and cities where our company operates. We continue to upgrade our facilities using top-notch technologies to reduce negative impact of our operations on environment. New equipment at AKKhZ is designed to significantly improve environmental safety of the enterprise - from now on 99% of waste gases will be cleaned. Despite the difficult situation in the city because of the armed conflict, we believe peace will be established and therefore continue to invest in the plant and environmental future of Avdiivka.
Musa Magomedov, the General Director of Avdiivka Coke Plant:
- The thermal and catalytic afterburner is unique for our enterprise. It is manufactured from high quality materials and its maintenance will be done by specially trained personnel. The afterburner was designed by Viacheslav Maikov from Zaporizhya, and the first system like that was installed at ZaporizhCoke. According to the designer, today these systems have no analogues in the world and their use at all coke and chemical enterprises is recommended by the A. N. Marzeyev Institute of Hygiene and Medical Ecology.
This is to remind that the construction of the catalytic detoxifier of ventilation emissions at Avdiivka Coke was started in 2013, yet the project implementation had to be put on hold in 2014 because of the shelling. The construction work was resumed in 2015.
The tar distillation shop of Avdiivka Coke makes seven types of products that have a high cost and are in high demand by Ukrainian and international companies. The key product of the shop is electrode pitch (liquid and granulated). It is used in non-ferrous metallurgy. Avdiivka Coke currently supplies pitch to aluminium plants located in the CIS, Europe and Africa.
For editors:

Avdiivka Coke Plant is Europe's largest high-tech coking plant. The plant makes 31 types of products. It has customers in Ukraine, Russia, Poland, Georgia, Belgium, Tajikistan, Turkey, and Egypt. Its key products are blast furnace coke, electrode pitch coke, and crude benzene. Avdiivka Coke makes 23% of Ukraine's bulk coke. The plant produced 1.9 million tons of blast furnace coke in 2015. The plant runs eight coke oven batteries, with a design capacity of 6.87 million tons of bulk coke per year. The enterprise is self-sufficient in terms of energy resources, including process steam, heating and electricity. Avdiivka Coke produces more than 50% of blast furnace coke with an advanced and environmentally friendly dry quenching process. Avdiivka Coke received a certificate for actively participating in the implementation of environmental policy at the regional level at the "Ecology in an Industrial Region" second international environmental forum by the National Environmental Protection Administration in Donetsk Oblast in 2012. At the end of 2015, the products of Avdiivka Coke were recognized with a Quality Star of the National Rating for goods and services quality. Avdiivka Coke, together with the Shakhtar Football Club opened a football school for children in Avdiivka; the school currently has 60 students.