6 July 2016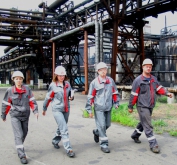 Metinvest's Avdiivka Coke Plant successfully passed the certification audit by the European certification body QSCert (the Netherlands). The enterprise confirmed its quality management system complied with the international standard ISO 9001:2008.
The quality management system in line with ISO 9001 has been in place at Avdiivka Coke since 2007. That is the time when the first certification was conducted as part of the Metinvest strategy on the implementation of global quality standards across the Group's enterprises. Compliance audit is conducted on an annual basis and end-to-end check is conducted once every three years. Such approach helps Avdiivka Coke remain the recognized leader among the European coke producers.
The QSCert certificate covers all products of Avdiivka Coke – blast furnace and foundry coke, coke nut, coke fines, electrode pitch coke, and chemicals.
"Avdiivka Coke has faced a lots of problems after the start of armed conflict – from shelling to simple lack of empty railway cars to transport finished products. As a result, production was reduced; however, we have always tried to produce high quality products," said Musa Magomedov, Avdiivka Coke's general director. "We strictly control all production steps starting from the supply of raw materials. And international recognition proves this work is efficient."