17 March 2016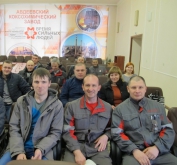 Avdiivka Coke employees - students of Donetsk National Technical University – successfully passed their first semester courses. As initiated by Avdiivka Coke Plant's General Manager Musa Magomedov, coke plant employees have had their first lectures at the enterprise. Such decision was made to ensure employees are safe as military actions are still taking place around Avdiivka.
18 students have been attending a specialist education program developed for coke plant employees. The education course will last two years and 10 months. Teachers from the oldest institution of higher technical education in Donbass come to the enterprise with lectures once a week. Coke plant employees have been studying right at their workplaces. Furthermore, they successfully passed their first on-job end-of-semester exams.
"I graduated from the vocational high school in 2009 but did not have any chance to enter a higher educational institution. And here is such a chance. So, I decided to study," said Anna Ivanova, inspector of Quality Control Department. "It was difficult at the start but I quickly got used to it recollecting those years when I was a student. To pass entrance exams successfully, I had to do my best. I would like to thank our management for this opportunity to attain higher education free of charge! I will do my best to justify this confidence."
Avdiivka Coke management is directly involved in education – is interested in current marks, attends exams. In addition, Avdiivka Coke top managers will supervise graduation thesis of plant undergraduates. Avdiivka Coke employees will receive National Certificates of Higher Education upon completion.