17 February 2016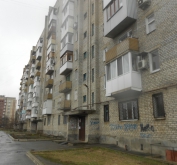 Avdiivka Coke completed major overhaul of the engineering networks in the premises of ten most damaged apartment blocks of the city. Metinvest Group directed over UAH 3.5 mln for this purpose.
According to the municipalities, the heating systems in apartment block No. 4 in Semashko Street, apartment blocks No.No.14, 15-15а, 18, 21, 27 in the 9th quarter, and No.No. 4, 5, 7, 27 in Karl Marx Street were in poor condition and required an urgent replacement. There was a high risk of immediate heat supply interruption in these apartment blocks.
Avdiivka Coke decided to prevent this situation. The plant employees replaced worn heating pipes for new plastic ones, and installed the shut-off valves.
"We worked hard across all functions so that all repair activities were completed as soon as possible," said Musa Magomedov, Avdiivka Coke's General Director. "By doing this we eliminated the risk of leaving around 2000 residents without heat at a very inopportune moment."
We would like to remind, that in 2015 by the initiative of Metinvest's core shareholder Rinat Akhmetov, Avdiivka Coke restored 15 social facilities, repaired 69 apartment blocks and 135 private houses. The spending was UAH 18 mln.