9 February 2016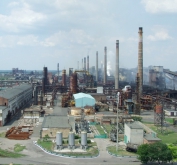 Avdiivka Coke (AKKhZ) of the Metinvest Group is the largest tax payer in Avdiivka providing for timely payments and the filling of the budget. In 2015, deductions accounted for 79.9% of all city's tax revenues.
Taxes, charges and other mandatory payments paid by the enterprise to the municipal budget last year totalled UAH 41.5 million. Over the same period in 2014 UAH 35.5 million was paid, which allowed to generate over 67% of the budget.
Musa Magomedov, Avdiivka Coke General Director:
- Avdiivka Coke has always been mindful of its responsibility for the city. Apart from taxes contemplated by the law, we allocate funds for the development of Avdiivka. We directed UAH 18 million last year to re-build the residential housing and social facilities affected by shelling. Despite the difficult situation in industry, our enterprise fulfils all our obligations before the workforce and the community.
Avdiivka city mayor Yuriy Cherkasov:
- Tax deductions of Avdiivka Coke provide for maintenance and repair of hospitals, schools and kindergartens, renovation of the municipal infrastructure, salaries of state employees, pensions and other social payments. As a city-forming enterprise Avdiivka Coke is not only the main employer and tax payer for Avdiivka. It makes a substantial contribution to resolve the current social issues in the city.
For editors:

Avdiivka Coke Plant is Europe's largest high-tech coking plant. The plant makes 31 types of products. It has customers in Ukraine, Russia, Poland, Georgia, Belgium, Tajikistan, Turkey, and Egypt. Its key products are blast furnace coke, electrode pitch coke, and crude benzene. Avdiivka Coke makes 23% of Ukraine's bulk coke. The plant produced 1.9 million tons of blast furnace coke in 2015. The plant runs eight coke oven batteries, with a designed capacity of 6.87 million tons of bulk coke per year. The enterprise is self-sufficient in terms of energy resources, including process steam, heating and electricity. Avdiivka Coke produces more than 50% of blast furnace coke with an advanced and environmentally friendly dry quenching process. Avdiivka Coke received a certificate for actively participating in the implementation of environmental policy at the regional level at the "Ecology in an Industrial Region" second international environmental forum by the National Environmental Protection Administration in Donetsk Oblast in 2012. At the end of 2015, the products of Avdiivka Coke were recognized with a Quality Star of the National Rating for goods and services quality. Avdiivka Coke, together with the Shakhtar Football Club opened a football school for children in Avdiivka; the school currently has 60 students.

Metinvest Group is a vertically integrated group of steel and mining companies that manages every link of the value chain, from mining and processing iron ore and coal to making and selling semi-finished and finished steel products. It has steel and mining production facilities in Ukraine, Europe and the US, as well as a sales network covering all key global markets. Metinvest Group is structured into Metallurgical and Mining Divisions. Its strategic vision is to become the leading vertically integrated steel producer in Europe, delivering sustainable growth and profitability resilient to business cycles and providing investors with returns above industry benchmarks. The Group generated US$5.4 billion of revenues and a 15% EBITDA margin for the nine months of 2015.

The major shareholders of METINVEST B.V. (the holding company) are SCM Group (71.24%) and Smart-Holding (23.76%), which partner in the Group's management.

Metinvest Holding, LLC is the management company of Metinvest Group.