4 February 2016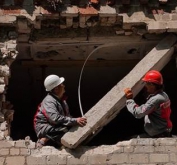 Last year, Avdiivka Coke (AKKhZ) restored 69 apartment blocks damaged by artillery shelling, 15 social facilities, and donated construction materials to 135 private house owners to repair their homes. Metinvest Group channeled UAH 18 mln for this purpose.
In 41 apartment buildings, AKKhZ rebuilt outside and bearing walls and façades; recreated partition walls and staircase flights; and restored floor slab panels and window units. In another 20 houses, AKKhZ repaired the roof damaged by artillery shells, and in eight buildings AKKhZ replaced completely the district heating pipes damaged during freezing temperatures due to lack of heat in the system.
The major employer of the city assisted in restoring four kindergartens, three secondary schools, an evening school and a music school. Drinking water pump station, city electric grid and central city hospital were able to resume operation. AKKhZ also repaired the Culture Centre, the House of Children's and Youth Creativity and the Centre for Innovation and Development.
In addition, Avdiivka Coke provided heat to the city: the enterprise repaired the heat pipeline running from the plant to the city. It provided the required materials to municipal utility for the repair and heat insulation of the heat distribution network. AKKhZ provided heat to the premises of the city's telephone station of Ukrtelekom company. AKKhZ completely replaced damaged utility lines in the basements of 16 high-rise apartment blocks and in the building of maternity department of the central city hospital. The plant purchased 1,500 heat radiators to replace frost-damaged heating units in the apartments of socially vulnerable residents of the city.
Musa Magomedov, General Director of Avdiivka Coke Plant:
"As soon as the first shells hit Avdiivka, Metinvest's major shareholder, Mr. Rinat Akhmetov set us a task: help the city to cope with the calamity, bring it back to life. We started the works without waiting for peace. We coped with the financial difficulties, lack of contractors, and the problem of materials delivery to the city. However, mainly, we had to cope with the feeling of despair. Today, children's laughter can again be heard in Avdiivka's schools and kindergartens, thousands of residents return to their warm apartments. We will continue to operate for the sake of that."