15 January 2016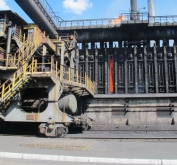 Metinvest Group's Avdiivka Coke (AKKhZ) commissioned a new cleaning unit that does not exist at any other iron and steel works in Ukraine. Project investments totalled about UAH 6 mln.
The new aspiration unit will allow cleaning up to 99% fine dust at the coke crushing section of Coke Shop No. 1 – one of the most dust intense business units of the enterprise. This corresponds to European environmental standards on dust emissions.
The unit was custom-developed and made for AKKhZ by Polish engineers is distinguished by the ability to collect dust both in dry and wet coke quenching processes. Avdiivka Coke Plant is the first enterprise in Ukraine that applied this technology for air cleaning.
"Despite challenging social and economic situation, Metinvest continues modernization of the Group's enterprises. In our work we pay special attention to improving safety standards and decreasing the environmental burden," - said Musa Magomedov, Avdiivka Coke's General Director. The new aspiration unit will allow decreasing dust emissions into the atmosphere and will make the work of coke makers more comfortable and safe.