10 August 2015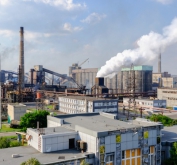 Avdiivka Coke Plant has completed most of the work to restore its operations after being shelling on August 4. The enterprise has returned to its planned level in terms of production volume.
Employees from DTEK and Avdiivka Coke restored the plant's high-voltage power lines, stabilizing power supplies to the plant. Seven coke batteries are now operating and one is being repaired. The plant is producing 6,900 tons of bulk coke per day.
Avdiivka Coke also re-established railway links to receive raw materials and dispatch finished goods.
One of the restored power lines was damaged again last weekend after being shelled by artillery; specialists are engaged in restoration work now. Repairs to other facilities at the plant are also underway.
Despite being regularly shelled, several projects related to the modernization of production facilities are being implemented at Avdiivka Coke. Most of the larger-scale projects are related to environmental protection. One of these projects involves the construction of a catalytic afterburner unit that will clean up to 99% of outgoing gases from the Coke and Pitch Shop. Another project involves the assembly of filters for aspiration units at Coke Shop #1.
Avdiivka Coke is also helping to rebuild the city of Avdiivka. It has assisted with repairs to three apartment buildings, two kindergartens and two general education schools, three cultural facilities and the city's central hospital. It has also given more than 50 families free-of-charge construction materials to repair their private houses themselves. Overall, Metinvest has allocated UAH 18 million to help rebuild the city.