27 May 2015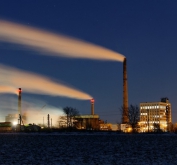 Electricity supply to Avdiivka Coke Plant has been restored. That, in addition to the repair of minimal required equipment damaged in attacks on 21 and 23 May, made it possible to restore the production process today.
Specialists from energy company DTEK and the plant's electricity staff restored three of four high-voltage power lines to the enterprise and the city yesterday. As a result, the morning shift today was able to charge the batteries in Coke Shops #1 and #2 and recommence the production process.
The plant's repair teams also restored process steam lines and power substations. Work to seal the batteries' gas collectors and repair water conduits on cooling towers is in progress. The railway, repair and mechanical, coke and coal preparation shops have been partially repaired.
The emergency suspension of operations at Avdiivka Coke had no negative impact on the environment. There were no recorded incidents of the leakage of harmful substances, discharge or liquids.
Avdiivka Coke has been shelled many times since July 2014. More than 200 shells have exploded on its territory since then. Five of the plant's workers have been killed as a result of the conflict.