22 May 2015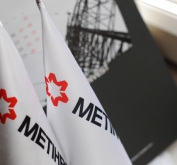 Metinvest Group's Avdiivka Coke Plant was hit by intense shelling on Thursday, May 21. One employee was killed and two others were wounded. Shells damaged the plant's core production equipment.
The management of Avdiivka Coke and Metinvest Group expresses their condolences to the relatives of the victim. The enterprise has committed to providing aid to the families of the deceased and wounded employees.
This was the heaviest shelling of the plant since the ceasefire and withdrawal of heavy weapons were announced. There were people working in the plant's shops at the time of the latest attack.
The barrage seriously damaged the plant's maintenance & repair and railway shops. Administrative and process buildings were also hit. A locomotive and a railway crane sustained direct impacts and were destroyed. Significant damage was also caused to the plant's railway tracks and the overhead wiring for electric trains. As a result, the plant currently cannot ship finished goods or receive raw materials.
Two of the four high-voltage electricity lines to the plant were disrupted, forcing production to decrease by 50% in Coke Shop #2.
Employees are working to mitigate the results of the attack. The damage to the maintenance & repair shop makes repair work extremely difficult: about 10 shells struck its roof, load-bearing structures, machinery and process equipment. This shop was the plant's centralized, rapid response unit for repairing and maintaining equipment and making spare parts and changeable components.
Avdiivka Coke has been subject to intense shelling since July 2014. Nearly 200 shells have landed on the territory of the enterprise.