31 July 2014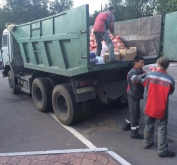 The active phase of the Ukrainian military's anti-terrorist operation in Avdiivka finished. As a result of military action, the city was deprived of electricity, gas and centralized water. Mobile communication is disrupted and all of the large stores are closed.
At the initiative of Metinvest Group's shareholder Rinat Akhmetov, several trucks with food and first necessity goods were sent from Donetsk and Zaporizhya to Avdiivka. Today, the residents of Avdiivka received the first humanitarian aid.

Metinvest Group intends to provide food to city residents until the complete stabilization of the situation in the city. Metinvest Group's Avdiivka Coke also plans to render assistance to the city to rebuild destroyed infrastructure and homes. An ad-hoc committee, under the leadership of Musa Magomedov, Avdiivka Coke's general director, is evaluating the damage to the city.

Akhmetov's Foundation for Development of Ukraine continues to help internally displaced people from Donbas. As of 30 July 2014, the Fund helped 7,242 people to move out of the region, of which 3,837 were children, including from orphanages in Donetsk region.
Akhmetov also asked the foundation to provide temporary accommodation for people from hot spots in Donbas. Since May, temporary accommodation has been provided to more than 3,000 displaced people from Donetsk, Zaporizhya, Kharkiv, and Dnipropetrovsk regions. Over 1,500 displaced people were accommodated at the recreation centers of enterprises that are part of Metinvest Group.