24 February 2014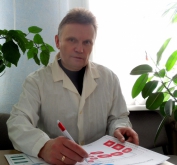 Avdiivka Coke launched the Healthy Heart project to detect in the early stages and provide constant monitoring of circulatory diseases.
Today, cardiovascular diseases are the first among the most common diseases; they are one of the main causes of death. Recognizing this, a year ago Avdiivka Coke medical staff organized in-depth health examinations instead of regular planned ones for all enterprise workers. Every case of cardiovascular disease that is detected will be supervised by the plant's medical staff and provided with regular medical examinations before each shift. According to medical staff, there are 380 such employees at Avdiivka Coke now.
To continue monitoring workers, the plant purchased modern diagnostic equipment. Four health posts were provided with blood pressure monitors, pulse oximeters, biochemical blood analyzers, Holter monitors and alcohol detection devices for a total amount of almost UAH 140,000.
"Today cardiovascular diseases are one of the primary causes of death," says Sergey Khilay, senior physician at Avdiivka Coke's industrial hospital. "Regular pre-duty examinations enable medical staff to provide timely medical aid to those employees who need their help. It has a huge effect - it prevents further complications and people do not lose their ability to work."
For editors:

Avdiivka Coke Plant is Europe's largest high-tech coking plant. The plant makes 31 types of products. It has customers in Ukraine, Russia, Poland, Georgia, Belgium, Tajikistan, Turkey, and Egypt. Its key products are blast furnace coke, electrode pitch coke, and crude benzene. Avdiivka Coke makes 23% of Ukraine's bulk coke. The plant produced 3.7 million tons of bulk coke (6% moisture content) in 2012. The plant runs eight coke oven batteries, with a designed capacity of 6.87 million tons of bulk coke per year. The enterprise is self-sufficient in terms of energy resources, including process steam, heating and electricity. Avdiivka Coke produces more than 50% of blast furnace coke with an advanced and environmentally friendly dry quenching process. Avdiivka Coke received a certificate for actively participating in the implementation of environmental policy at the regional level at the "Ecology in an Industrial Region" second international environmental forum by the National Environmental Protection Administration in Donetsk Oblast in 2012. Avdiivka Coke, together with the Shakhtar Football Club opened a football school for children in Avdiivka; the school currently has 60 students.

Metinvest Group is a vertically integrated group of steel and mining companies that manages every link of the value chain, from mining and processing iron ore and coal to making and selling semi-finished and finished steel products. It has steel and mining production facilities in Ukraine, Europe and the US, as well as a sales network covering all key global markets. Its strategic vision to become the leading vertically integrated steel producer in Europe, delivering sustainable growth and profitability resilient to business cycles and providing investors with returns above industry benchmarks.

The Group reported revenue of USD 3.1 billion and an EBITDA margin of 15% in the first quarter of 2013.

The major shareholders of Metinvest B.V. (the holding company for Metinvest Group) are SCM Group (71.25%) and Smart-Holding (23.75%), which partner in the Group's management.

Metinvest Holding, LLC is the management company of Metinvest Group.