5 February 2014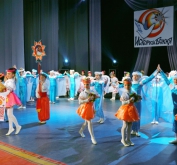 The Cultural Center of Coke and Chemical Workers will open its doors for "God's Sparkle," a unique festival of children and youth art, for the ninth time.
The plant is supporting 400 young talents who will perform on the stage of the cultural center on 11 February. Teams of performers are from Avdiivka primary schools, preschools, children and youth arts centers, children music and Sunday schools. In addition, an exhibition of decorative and applied art will take place as part of the festival. 750 artists of crafts will represent their works in minting, wood carving, patchwork, bead weaving, needlework, pottery, etc.
This charitable festival presents the talented people in Avdiivka and will bring together spectators and participants to help Andrey Kuzhilny, an 8-year-old boy who has cancer. Facilitators and performance groups are sure that they can help the boy overcome his illness.
Hours of the exhibition: 17:00-18:00. Commencement of the festival: 18.00.
Entrance is free.
For editors:

Avdiivka Coke Plant is Europe's largest high-tech coking plant. The plant makes 31 types of products. It has customers in Ukraine, Russia, Poland, Georgia, Belgium, Tajikistan, Turkey, and Egypt. Its key products are blast furnace coke, electrode pitch coke, and crude benzene. Avdiivka Coke makes 23% of Ukraine's bulk coke. The plant produced 3.7 million tons of bulk coke (6% moisture content) in 2012. The plant runs eight coke oven batteries, with a designed capacity of 6.87 million tons of bulk coke per year. The enterprise is self-sufficient in terms of energy resources, including process steam, heating and electricity. Avdiivka Coke produces more than 50% of blast furnace coke with an advanced and environmentally friendly dry quenching process. Avdiivka Coke received a certificate for actively participating in the implementation of environmental policy at the regional level at the "Ecology in an Industrial Region" second international environmental forum by the National Environmental Protection Administration in Donetsk Oblast in 2012. Avdiivka Coke, together with the Shakhtar Football Club opened a football school for children in Avdiivka; the school currently has 60 students.

Metinvest Group is a vertically integrated group of steel and mining companies that manages every link of the value chain, from mining and processing iron ore and coal to making and selling semi-finished and finished steel products. It has steel and mining production facilities in Ukraine, Europe and the US, as well as a sales network covering all key global markets. Its strategic vision to become the leading vertically integrated steel producer in Europe, delivering sustainable growth and profitability resilient to business cycles and providing investors with returns above industry benchmarks.

The Group reported revenue of USD 3.1 billion and an EBITDA margin of 15% in the first quarter of 2013.

The major shareholders of Metinvest B.V. (the holding company for Metinvest Group) are SCM Group (71.25%) and Smart-Holding (23.75%), which partner in the Group's management.

Metinvest Holding, LLC is the management company of Metinvest Group.