18 November 2013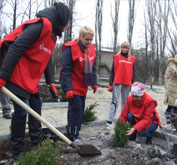 With the support of the Avdiivka Coke Plant, Avdiivka residents planted 100 trees and more than three hundred shrubs on Gagarina Street. The event one of the stages of the creation of a new park area being created in Avdiivka as part of the social partnership between Avdiivka Coke Plant, Metinvest and the city.
Avdiivka residents planted 100 nursery golden ash trees, oaks, maples, larches and thujas on a 0.7 hectare piece of land on Saturday, November 16. Also planted were over three hundred shrubs and pines and fir-trees.

Electrical cables have already been installed in the park area; earth works and brick paving are in progress. Benches, lights and a playground will soon be installed. The project budget amounts to UAH 1.6 million.

"Avdiivka has a huge need for improved streets and squares for decent leisure spaces," said Musa Magomedov, Avdiivka Coke's general director. "Since the coke plant has taken on a larger portion of the responsibility for the development and prosperity of the city, we continue to develop this improvement project. The improvement of this park is our most expensive project this year. It's very important for us that Avdiivka residents who care about the future of the city participated today along with plant workers."

Participants in the event included Avdiivka Coke's workers and top management, employees from the city administration and residents from nearby buildings. Avdiivka Mayor Yury Cherkasov also took part.

"The city administration allocated UAH 25,000 for the development of the design documentation. In the past, this place was empty and neglected," said Cherkasov. "The joint efforts of the city, the plant and ordinary citizens will make an example to be followed. The trees and the playground are there to make our people happy. It's important that this beauty is cared for; therefore we will put in lighting and surveillance cameras. The slogan 'the plant and the city are one' has been brought to live today. It is a wonderful gift to the people on the eve of the plant's 50th anniversary. People will gladly go to work and happily come home."
For editors:

Avdiivka Coke Plant is Europe's largest high-tech coking plant. The plant makes 31 types of products. It has customers in Ukraine, Russia, Poland, Georgia, Belgium, Tajikistan, Turkey, and Egypt. Its key products are blast furnace coke, electrode pitch coke, and crude benzene. Avdiivka Coke makes 23% of Ukraine's bulk coke. The plant produced 3.7 million tons of bulk coke (6% moisture content) in 2012. The plant runs eight coke oven batteries, with a designed capacity of 6.87 million tons of bulk coke per year. The enterprise is self-sufficient in terms of energy resources, including process steam, heating and electricity. Avdiivka Coke produces more than 50% of blast furnace coke with an advanced and environmentally friendly dry quenching process. Avdiivka Coke received a certificate for actively participating in the implementation of environmental policy at the regional level at the "Ecology in an Industrial Region" second international environmental forum by the National Environmental Protection Administration in Donetsk Oblast in 2012. Avdiivka Coke, together with the Shakhtar Football Club opened a football school for children in Avdiivka; the school currently has 60 students.

Metinvest Group is a vertically integrated group of steel and mining companies that manages every link of the value chain, from mining and processing iron ore and coal to making and selling semi-finished and finished steel products. It has steel and mining production facilities in Ukraine, Europe and the US, as well as a sales network covering all key global markets. Its strategic vision to become the leading vertically integrated steel producer in Europe, delivering sustainable growth and profitability resilient to business cycles and providing investors with returns above industry benchmarks. The Group reported revenue of USD 3.1 billion and an EBITDA margin of 15% in the first quarter of 2013. The major shareholders of Metinvest B.V. (the holding company for Metinvest Group) are SCM Group (71.25%) and Smart-Holding (23.75%), which partner in the Group's management. Metinvest Holding, LLC is the management company of Metinvest Group.