24 October 2013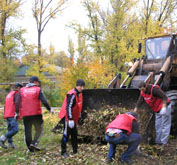 More than 300 volunteers, including workers from Avdiivka Coke Plant and representatives of city organizations, removed 50 tons of waste from a 19,000 square meter area around Avdiivka's Central Hospital.
This event was part of SCM Group's "Green City" campaign, which took place in all cities and towns where the company operates. Event organizers supplied tools and work clothes, refreshments, and waste removal services.
"Today we are trying to change our approach to controlling pollution in the city where we live," said Musa Magomedov, Avdiivka Coke general director. "This volunteer initiative is very important. If people are united around common idea, they can make Avdiivka cleaner and more beautiful."

This is Avdiivka Coke's second environmental clean-up project; In April, the plant cleaned up an area near Shevchenko Boulevard.
"The young workers from Blast Furnace Shop #2 were eager to support the volunteer campaign to clean up the city," said Vladimir Teplyakov, a refractory fitter. "We were in a good mood during the event, and cleaned our area from waste and leaves."
"We want to clean our city because we live here, which is why we are doing this for ourselves and for our children," said Liliya Merezhko, administrative department inspector. "This is why we have to keep our city clean."
For editors:

PJSC Avdiivka Coke Plant is Europe's largest high-tech coking plant. The plant makes 31 types of products. It has customers in Ukraine, Russia, Poland, Georgia, Belgium, Tajikistan, Turkey and Egypt. Its key products are blast furnace coke, electrode pitch coke and crude benzene. Avdiivka Coke makes 23% of bulk coke in Ukraine. The plant produced 3.7 million tons of bulk coke (6% moisture content) in 2012. The plant runs eight coke oven batteries, the designed capacity of which is 6.87 Million tons of bulk coke per year. The enterprise is self-sufficient in terms of energy resources including process steam, heat and electricity. Avdiivka Coke produces more than 50% of blast furnace coke with an advanced and environmentally friendly dry quenching process. Avdiivka Coke received a certificate for actively participating in the implementation of environmental policy at the regional level at the "Ecology in an Industrial Region" second international environmental forum by the National Environmental Protection Administration in Donetsk Oblast in 2012. Avdiivka Coke, together with the Shakhtar Football Club opened a football school for children in Avdiivka; the school currently has 60 students.

Metinvest Group is a vertically integrated group of steel and mining companies that manages each link in its production chain, from iron ore and coal mining to the production of semi-finished and finished products. The Group's assets are located in Ukraine, Europe and the U.S.A.; its sales network has a presence in all key global markets. The Group's strategic vision is to become the leading vertically integrated steel producer in Europe, deliver sustainable growth and profitability resilient to market cycles, and provide investment returns that are higher than industry benchmarks. The Group's revenue was USD 12.6 billion and its EBITDA margin was 16% in 2012. The major shareholders of Metinvest B.V. (holding company) are SCM Group (71.25%) and Smart-Holding (23.75%), who are partners in management of the company. Metinvest Holding, LLC is Metinvest Group's management company.