29 August 2013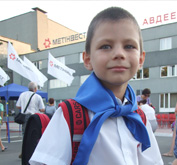 First-year school children of Avdiivka town, whose parents work at the Avdiivka coke plant Metinvest Group, received on the eve of the Day of Knowledge comfortable backpacks with orthopedic inserts and school supplies as a gift from the plant.
The procedure of preparing young school children for the first academic year is still in process in Ukraine at all enterprises of Metinvest Group.
Modern backpacks were handed to the parents of 86 first-year school children at the traditional event called "ABVGDeyka", which was held on August 23 at the square near the Palace of Culture. This year Musa Magomedov, General Director of Avdiivka Coke Plant visited the event with the purpose to congratulate first-year school children.

The Head of the plant personally put on the shoulders of each student the backpacks presented by Metinvest and gave every child a handshake.
- Children, soon you will become students! I wish you good study, learn as much as possible and be able to become the human of worth - said Musa Sergoevich. – Metinvest Group presented to you these backpacks to ensure that you will be interested in studying and it will be easy to learn. I congratulate you on assuming the adult life!

Parents appreciated the gifts from the company and expressed their gratitude to the management:
- Thank you for the wonderful gifts and substantial material aid on the eve of the Day of Knowledge - said Oksana Voytyuk, Pumpman of coal pitch processing shop. - It's a nice attention sign from a company that cares about its employees and their families and children. My son Julian is very pleased with the gift, besides it is his birthday today!

- This year my daughter Victoria is a first-year schoolgirl, - said Evgeniy Shumov, Inspecting engineer of the Security Department of the plant. – I want to thank Metinvest Group for such a wonderful tradition. The school preparation is very expensive now and we all know this. That's why we appreciate the management of the plant for care and attention.

Metinvest Group allocated in general 2.6 million UAH for this project in Ukraine and helped prepare for school almost 4300 children.