9 August 2013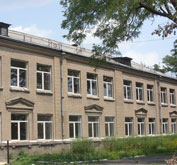 Avdiivka CokePlant of Metinvest Group in the framework of a regional partnership with Avdiivka plans to invest a total of about 1 million 300 thousand UAH in the town educational system development in 2013 year.
All repair work and improvement of school territories at town educational institutions will be completed by the beginning of the school year.

According to the program, 89 old wooden window frames have already been replaced with new ones in a school of the old part of the town. The repair has been finished in the dining room and the auditorium of another Avdiivka school. Besides this, the Plant supported a town kindergarten in window frame replacement. Corridors and restrooms in town musical school were renovated, and old door frames were replaced. Additional funds were allocated to town educational schools and vocational school for improving its facilities.

To increase pupil safety and improve the places new park lights established at four Avdiivka town schoolyards.

This year Metinvest made a resolution to equip with computers two town secondary schools.