25 July 2013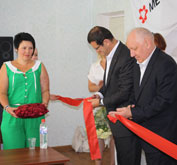 In the framework of social partnership Avdiivka Coke Plant of Metinvest Group with Avdiivka the town center for disabled people adaptation was opened. The Mayor Yury Cherkasov and General Director Avdiivka Coke Plant Musa Magomedov attended the grand opening.
The Plant has invested more than 85 thousand UAH into the development modern training studio for members of the Disabled Persons organizations named "Preodolenie", consisted of 140 people from 4 to 56 years. Thanks to this support the organization conducted repairs works at their main location, bought furniture, sports equipment and office electronics needed for diversified work.

Different workshops and training sessions will be organized at the new studio to help people with the knowledge and practical skills for diversified and full lifestyle, including legal issues, the opportunity to play sports and participate in the town cultural life. Also, the project provides disabled people transportation to leisure places for hiking, hippotherapy, walking parks and marathon.

Director General of Avdiivka Coke Plant Musa Magomedov congratulated the participants with training studio opening and emphasized on disabled people strong character, their persistence, and will: "It's always pleasant to help active people involved in town social life. Avdiivka Coke Plant and I personally will do everything we can to ensure that this position has been realized".
In 2012, the framework of corporative volunteering repair works were carried out at organization "Preodolenie" location. And this year, massage room was opened with the support of Avdiivka Coke Plant. The organization also will receive about 30 thousand UAH. to implement the project aimed at the socialization of children with special needs in the framework of corporate program "We improve the town".