18 June 2013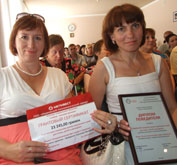 Metinvest summed up the social projects contest «We improved the town» in Avdiivka. The finalists, included nine social projects from town dwellers, receive financial support from Avdiivka Coke Plant in the amount of 350 thousand UAH. The funds directed to its initiatives implementation for 2013. In addition to financial assistance from the Metinvest finalists will use their own funds a total of more than 100 thousand UAH.
The program «We improved the town» takes place in the town for the second time. This year, the Expert Council, which is consist of public people of Avdiivka and employees of the Plant, decided to the winning projects from five to nine.
Thanks to the program new children's sports and play area was built by the condominium one of the most populated town place in the near future.
Four of the nine winning projects direct to the development of comfortable and modern environment for organizing children rest time after school and during the summer holiday. So, two youth clubs were repaired and one of the school summer camp will received new equipment for the kitchen. Besides this, school summer camp planned purchase of sports equipment (tennis table, balls, jump ropes, bicycles, roller skates, tourist tents, etc.) for children from the needy layers of the population having rest in town summer camp at the House of children and teenagers.
The implementation of two more projects aimed at involving young people of Avdiivka to social work, volunteer and a healthy lifestyle. The project authors are planning to conduct sports activities, actions and events with children participation in the hospital and orphanage, to get up concerts for charitable objects.
In the framework of social project program «We improved the town» Avdiivka Coke Plant supports town center for people with disabilities with funding for the socialization of children with special needs. And Avdiivka social services will open psychological support and assistance center.
"I say thanks to all the participants of the contest «We improved the town». The projects do raise issues that most concern town dwellers. I wish the winners to implementation the projects promptly and skillfully. And Coke Plant, keeping the situation under control, is ready to support active people with their ideas to improve the life quality in Avdiivka "- said Musa Magomedov, CEO Avdiivka Coke Plant of Metinvest Group.