20 May 2013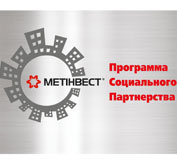 Metinvest has finished accepting applications for social projects competition as a part of the program We improve the City in Avdiivka. In 2013 24 project applications were received for the participation in the competition that is by 42% more than last year. The winners of the competition will get funds to realize their projects. The maximum amount of financial support for each project is UAH 50 thousand.
This year, a large number of applications are directed to educational, cultural and spiritual initiatives supporting the development. Among than are a psychological consulting room project, clubs of interests and a music festival. Landscaping town infrastructures and improvement places, where Avdiivka children and students, as well as for people with disabilities go for sports and have an active leisure, are also topical questions for dwellers.
Training of the program participants to the skills of social engineering and project management has become an innovation this year. About 500 residents have been trained in all towns where Metinvest enterprises are located. In Avdiivka 40 people took part in a training seminar. Geography of the project has also been expanded. Residents of Makeevka and Petrovskiy (Kirovohrad region) joined Avdeevka, Yenakievo, Mariupol, Khartsyzsk, Komsomolskoye, Novgorodskoye, Krasnodon and Krivoy Rog. Generally, 358 project applications were received for participation in this competition in 2013 and that is by 20 % more than last year. Winners of the competition will get funds to realize their projects.
Till the end of May all submitted applications will undergo technical examination and evaluation. Expert councils established in each town will evaluate the projects. Competent representatives of local communities, specialists of enterprises and organizations, leading Ukrainian experts for sustainable development became the members of the councils. The task of expert councils is to determine the best socially important projects and recommend them to the Company for financing.

In the beginning of June the awarding ceremony of winners of the competition will take place and subsequent implementation of the best projects will be carried out.