26 March 2013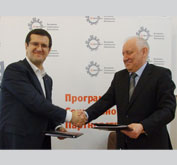 Avdiivka Coke Plant of Metinvest Group signed a social partnership and cooperation agreement for 2013 between enterprise administration and Avdiivka Municipal Council. The parties agreed to increase in the financing of social programs up to 5.2 mln.
The agreement was signed by Avdiivka Coke General Director Musa Magomedov and Town Mayor Yuriy Cherkasov.
In the framework of the social partnership agreement for 2013, the enterprise provides UAH 5.2 mln. to the gasification and lighting in the old part of Avdiivka, to building a center for people with disabilities, and to the project on replacing windows in schools and kindergartens. Park lights on the town school territories will be installed as well. The agreement plans the purchase of ambulances for Avdiivka central town hospital.
In addition, in 2013, the enterprise will continue to implement Metinvest corporate social programs to support the citizens' initiatives: "Healthy environment is everyone's business", " We improves the town", "Corporative volunteering".
"The dialogue between business and the community is a way to make our society more prosperous. The agreement is an example of a systematic approach to our interaction. We certainly will continue to work with Metinvest, solve Avdiivka social problems. And I want to say "thank you" for your cooperation ", - said Yuri Cherkasov, Avdiivka Mayor.
"Last year we invested in the social partnership program UAH 4.2 million. This year we plan to increase our investment by a million UAH. We understand our responsibility to the town development and try to make it more prosperous and comfortable, "- said Musa Magomedov, General Director of Avdiivka Coke Plant.