7 March 2013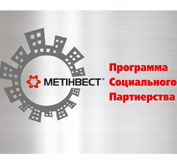 Avdiivka Coke Plant of Metinvest Group is launching a project contest, which will be held followed by funding urgent and essential projects, prepared by nonprofit organizations, municipal institutions and respectively by people of Avdiivka. The contest is organized in the framework of corporate social program "We Improve the Town", aimed at fostering greater citizen awareness among townsmen of Avdiivka.
In 2013, the priority directs of the competition are: increasing citizen awareness and respect for nature, popular sport elaboration, as well as cultural and educational development, the ideas of mutual social help and volunteering.
The projects will be assessed by the Council of Experts by the following criteria: the demand for and the feasibility of the project; the degree to which the project idea has been developed; originality; the social value of the issue in the given project; subsequent financial self-sufficiency and the availability of applicant's own financial or non-financial contribution to proposed project implementation.
The winners of the contest will be provided with the funds for implementation of their projects based on the concluded contracts in the amount approved by the Council of Experts. The amount of funds per project may be as high as 50 000 UAH.
The contest application form will be accepted from February 28 till April 30, 2013.
Fourteen social projects applied for corporative program "We Improve the Town" last year, and four of them were implemented with the whole budget of 250 000 UAH. Thanks to enterprise financial support, there are new up-to-date bus stop pavilions, two equipped children's playgrounds and outdoor video surveillance at four secondary school in the town.
"Avdiivka townsmen have been able to make sure that the program "We improve the Town" is a real opportunity for socially active people to contribute to the town socio-economic well-being, improving life quality and living comfort. But importance of the program is broader. Experience in implementing social projects is a crucial condition for changes in townsmen mind, fostering greater citizen awareness, responsibility and involvement in solving urgent problems of the town, " –– said Musa Magomedov, General Director of Avdiivka Coke Plant of Metinvest Group.