6 February 2013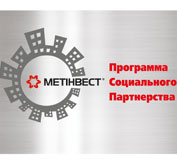 Avdiivka Coke Plant of Metinvest Group summed up the work in social investment in 2012. In the framework of regional partnership the Plant has been allocated a total of 4.98 million UAH, including 4.17 million UAH as financial aid.
Providing funds held under the Agreement on social and economic partnership for 2012 between the Plant management and Avdiivka Municipal Council taking into account the priorities, including municipal infrastructure development, educational level improvement, popular sport elaboration, and support vulnerable segments of the population.
In particular, in 2012 year, Metinvest Group initiated holding corporate social program "We improve the City with our hands" with a budget of 250 thousand UAH in Avdiivka. The funds were used for the implementation of the four selected projects, including the installation of outdoor video surveillance in town schools and modern bus stop in Avdiivka, the construction of new children sports playground.
In 2012, for the encouragement of Avdiivka gifted children the enterprise has established a scholarship. The plant has been allocated more than 630 thousand UAH for repairs and landscaping territory in educational institutions (vocational and technical schools, kindergartens and schools). For maintenance of children's football school, launched in 2011, in the framework of Metinvest program «Children and youth football development» the plant allocated 285 thousand UAH. During the past year Avdiivka Coke Plant invested in reconstruction and improvement of the town stadium and enhancement of central parkland area down the Gagarin Street.
"In 2013, Avdiivka Coke Plant will strengthen and deepen our partnership with the town community and make our social investment more effective. Avdiivka Coke Plant together with the Municipal Council is involving in development of the strategic grouth plan up to 2020, aimed at long-term changes in the citizens lifestyle quality, " –– said Musa Magomedov, General Director of Avdiivka Coke Plant of Metinvest Group.