24 December 2012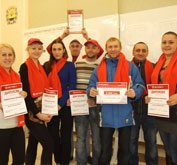 Avdiivka Coke Plant summed up the volunteer campaign «Troops of good works» in the framework of corporate volunteer program. During the month, 100 employees in nine volunteer teams have helped, without any charge, town social institutions and vulnerable citizens.
The event took place in three stages. In the first phase the volunteers carried out a number of repair work in town schools, hospital, nursing home. Then, some occupational guidance, intellectual and sports games, thematic workshops and concerts were organized for Avdiivka social and educational institutions.
In the third stage, the volunteers carried realistic and achievable dreams of vulnerable children which they had assigned in a letter to Santa Claus. Among these requests were: a trip to the Dolphinarium and the planetarium, a visit to the Plant greenhouse and place where pheasants are keeping, teaching roller skating and skateboarding, sweets etc.
The main results and additional volunteer initiatives have been summed up. The teams, which made the greatest number of «good works» awarded charity certificates for an amount of 9 thousand UAH and charity certificate for an amount of 5 thousand UAH for team taking third place. Other teams were awarded charity certificates for a thousand UAH. The winners will channel received money to charity and use their own discretion.
«It is not easy for a working man to find the time and energy to help other people. The participants made a contribution to improving standard of living for vulnerable people. And that is worth a lot. It is very good idea to organize volunteer campaign «Troops of good works», and I am sure it will continue developing in the future «, -- said Musa Magomedov, General Director of Avdiivka Coke Plant.