14 December 2012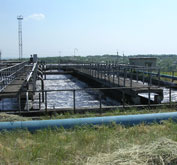 In 2012, Avdiivka Coke of Metinvest Group improved main indicator of plant waste-water treatment system effectiveness (chemical oxygen demand) by 25%. Besides, effectiveness of waste-water biological treatment from chemicals which are typical for a coke industry was improved, including phenols increase by 45%, rhodanates increase by 18%, cyanides increase by 12%, and ammonias increase 20%, resinous substanc-es increase by 25%.
It is the result of restoring and putting into operation the dephenolizing scrubber. It makes possible to decrease phenol concentration in waste water up to minimum level that is necessary to activate sludge waters in further. So new plant provides more deep purification of waste water collected at the plant as well as from other substances. Putting into operation the dephenolizing scrubber also guarantees that polluted water will not discharge into the factory offsite and will not enter into natural water reservoirs.
Within the framework of water-protection measures and monitoring of changes in groundwater characteristics the system of observation wells was upgraded at Avdiivka Coke Plant.
At present days, the industrial site of the enterprise is equipped with 11 observation wells with depths ranging from 10 to 16 meters. At waste accumulation places, like waste dump and sludge dump, operates a network of 11 monitoring wells with depths ranging from 6 to 30 meters. The water sampling and chemical analysis of wells conducted in 2012 showed that groundwater of the industrial site do not contain any pollutants, which are typical for a coke industry.
«Most of treated sewage water is reused for the enterprise production needs. Thanks to improvement in wast-water treatment, corrosion at equipment is reducing, as well as increase of the expected life of equipment. Permanent laboratory wastewater quality monitoring to ensure that the construction and operational activities are complying with regulations, permits.» –– said Vasiliy Vasilivich Kirbaba, deputy chief engineer for environmental protection at Avdiivka Coke Plant.