12 October 2012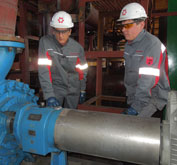 In the framework of reducing energy consumption in Avdiivka Coke Plant of Metinvest Group modernization of pumping compartment has been carried out in recovery shop № 2. As a result two outdated domestic pumps of the collecting main cycle have been replaced by Swedish pump GOULDS. The total investment value in the project is more than UAH 1.2 million.
New pump improves gasholders mode of operation in coke batteries №7 and №8, and its increased power and efficiency permits to reduce electric power consumption up to almost 300 kW / hour. In addition, the Plant gains electric energy saving at the expense of reduction of old equipment repairing. Use of new pump leads to improvement of working conditions and industrial safety by noise and vibration reducing.
In 2012 Avdiivka Coke pays particular attention to reducing energy consumption. Thus, change the circuit crushing burden for coking and implementation of automatic stop system at burden delivery in coal preparation shop № 2 in the third quarter results in reducing energy consumption more than 600 thousand kW / hour.
"The implementation of energy-saving technology, which is currently being carried out at Avdiivka Coke Plant, is especially important during the global crisis in the steel industry - said General Director of PJSC Avdiivka Coke Gennady Vlasov. - Reduce energy consumption affects the reduction of production costs for the enterprise, increasing its competitiveness."