20 September 2012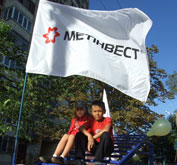 Within the framework of corporative social program "We Improve the City" three of four project-winners were already implemented in Avdiivka. Avdiivka Coke Plant of Metinvest Group raised finance for the best suggestions aimed at improving the quality and comfort of citizens lifestyle.
Thus the project "My school is my castle" providing the installation of outdoor video surveillance was implementet at four secondary schools in Avdiivka town. Provided by the initiative citizins it allows people to watch over possible incidents, track their history. Such activity increases security for the younger generation of Avdiivka during school breaks and after school day.
At each school yard 5-7 recording cameras, which scan the entire school playgrounds for 24 hours, were mounted. Into the surveillance system information is stored for a week.
As the result of implementation project called "Development and improvement sports playground for children" the multifunctional playground was placed at the yard of fourteen-storied block of flats. There are swings, carousels, horizontal bars, slides and benches at the playground. And the whole area were enclosed by fence.
The project "Mounting of bus stops in Avdiivka", which also was financed by Metinvest, made a contribution to improvement town infrastructure and increasing living comfort for citizens.
The winner of the corporative social program "We Improve the City" suggestion "The best for children" provides the construction of a modern sports and playground at one of the most populated residential areas of Avdiivka. The project is the most ambitious and expensive among the winners of the program. The cost sharing finance of this project is about 143 thousand UAH. Its opening will be in November 2012
"Corporate social programs of Metinvest aimed at making long-term positive changes in Avdiivka. The active involvment citizens, who are interested in improving of town life quality, is a crucial condition for it. We are grateful to initiative group of Avdiivka citizens and public organization representatives who demonstrate their interest in program " We Improve the City," - said the Regional Development manager Oksana Tregubchuk.