7 September 2012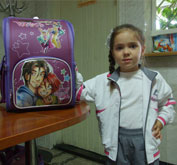 Metinvest Group presented to-be-first-graders, whose parents are employees of Avdiivka Coke Plant, with school kits and bags for the new school year. The initiative to giving a gift for the beginning of the school year is held at Avdiivka Coke third year in a row.
This year 125 children, who go to school firstly, received backpacks with orthotics inserts completed with all stationeries required. There are all necessary for first-graders, such as copy-books, school records books, pencil cases, pencils, erasers and other school supplies. The cost of a kit is 500 UAH.
In the run-up to the new school year Metinvest is traditionally supporting educational institutions of Avdiivka. In early August in the framework of the regional partnership with Avdiivka the Plant gave town schools funds to purchase 650 textbooks for classes with Ukrainian as the language of teaching.