30 August 2012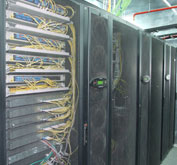 Avdiivka Coke Plant is among four Metinvest enterprises, which participate in pilot project of the Company called "The Transformation and implementation of SAP". The program aims to increase the transparency and efficiency of business processes at Groups' plants and is one of the strategic projects of Metinvest Group.
SAP ERP-system allows to manage all production processes with wide range of tasks, which covers whole areas of manufacturing. The project also provides an opportunity to display and manage internal business processes of an enterprise: accounting and analytical materials, sales and logistics, planning, repair, finance, human resources as well as unified supplemental information. Currently, the project is the most effective and the most comprehensive integrated IT solution in this sphere.
Apart Avdiivka Coke, Metinvest enterprises completed in whole manufacturing and supply chain — Northern Iron ore Enrichment plant, Enakiieve Steel, Metinvest Resource - participate in the project.
In the cource of SAP implementing five steps will be made will: project preparation, writing conceptual design, realization, final preparation with the launch of the system in trial operation and the transition to commercial operation and support. For Avdiivka Coke specialists will describe in detail more than 370 key business processes at 5th level concerned supply chains and 55 processes connected with human resources area taking into account all the specifics of the Plant.
"Now the project team is developing a unified global program pattern for all Metinvest enterprises, - said Alexandr Udodov, acting Deputy IT Director Avdiivka Coke, responsible for program implementation on Avdiivka Coke. - Then industrial pattern will be elaborated with business experts enterprises - leaders and members of the working groups. Final pattern prepared for the pilot implementation on Avdiivka Coke will become sample to all Metinvest coke production facilities in implementing and transforming them into integral system".