7 August 2012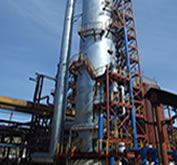 Avdiivka Coke Plant put into operation up-graded installation for phenol extraction from industrial water which formed during the process of coking. Thanks to this re-equipment the production of phenolates in the shop #2 has resumed. And the Plant will produce up to 240 tons of phenolates per year. The product is an important raw material for production of synthetic resins, plastics, polyamides, pharmaceuticals, dyes, antioxidants, antiseptics. The total investment value in the modernization is more than UAH 15 million.
Phenol which contains in industrial water exuded during the process of coking is used in the capacity of raw material for phenolates producing. Before this innovation phenol had been utilized into biochemical treatment plant. Meanwhile phenol scrubber decreases phenol concentration in waste water up to minimum level that is necessary to activate sludge waters in further. So new plant provides more deep purification of waste water collected at the plant as well as from other substances, and the effectiveness of waste-water treatment plant is going to be increased to 99%.
"To increase production efficiency of Avdiivka Coke intends to exploit more fully the products formed during the coking process, — said General Director of Avdiivka Coke Gennadiy Vlasov. — At the same time in the case of phenol scrubber we solve the priority task of reducing the technological impact on the environment. Our long-range development program provides for modernization taking into account international requirements for environmental protection."