23 July 2012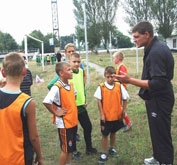 Avdiivka Coke Plant of Metinvest Group within the framework of the social and economic partnership program with Avdiivka invests more than UAH 1 mln in sports facilities building, children's playgrounds and healthy lifestyles promotion since the beginning of the year.
The largest expense item in this direct of social investment was reconstruction of the town stadium "Koksohimik" which is the main sport facility in Avdiivka. The playground for the sport activity with an artificial covering and football pitch are under construction at the present time as well. They will be used as a base for training of Avdiivka citizens including sports school youngsters.
For physical development of preschool children Avdiivka Coke Plant assigned means for development of children's playgrounds at kindergartens. At the present time swings, slides and basketball nets have been constructed at four town kindergartens.
Organized within the framework of Metinvest's corporate social program « Development of Children and Youth football» Avdiivka children and youth football school continues its work as part of Palace of Culture, Techniques and Sports of PJSC "Avdiivka Coke Plant". The school pupils regularly take part in matches and championships between town and region football teams. This year they participated in the team championship between young academy branches of FC Shakhtar and international tournament «The Friendship of Nation » in Sevastopol, where school youngsters took the fourth place. During the first half of 2012 for school maintenance and sports events the Plant transferred UAH 170 thousands.
«Avdiivka Coke Plant is a socially responsible company, and one of the priorities for social investment is to take care of the younger generation. It is necessary to create conditions for harmonious development by assisting education establishments, promoting mass sports activities and popularizing a healthy lifestyle to bring up children of our town to become healthy and educated citizens,» – said Oksana Trigubchuk, Regional Development Manager PJSC "Avdiivka Coke".