19 June 2012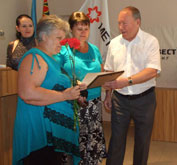 The results of social program contest "We Improve the City" initiated by Metinvest Group and implemented by PJSC "Avdiivka Coke Plant" has been released in Avdiivka.
Take into account social impact of problem-solving project the Expert Council had selected four most relevant proposals from 14 projects submitted by initiative groups of citizens and town public organizations.
Selected projects directed to town infrastructure development, building and improvement children's playgrounds as well as providing healthy leisure activity and safety for Avdiivka children.
Thus, proposed by a group of citizens with the support of public organization "Our Time" the project "The best for children" provides the improvement for the Jubileiniy block of houses which is one of the most populated residential areas of the town. Modern sports and play area with exercise equipment, horizontal bar and children's attractions will appear here.
Taking into account the actuality and necessity of such leisure area in the town the City council decided to help in financing this large-scale project. City council gives 45 000 UAH from 143 000 UAH that necessary for the construction.
Thanks to the contest "We Improve the City" children's sport playground will be constructed on the Chapaeva Street soon. The project was proposed by the condominium of multifamily house.
The project of outdoor video surveillance systems installation on the schools territory named "My school - my fortress, suggested the Donetsk Regional public organization "Federation of sport paintball in Donetsk Region" (the organization was registered and operates in Avdiivka .) also generated a great interest of the city community. This initiative will increase the safety of Avdiivka pupils and prevent illegal actions.
The implementation of the project "Installation of bus-stops in Avdiivka" proposed by Avdiivka town public organization "Social Union of Youth "Edinstvo " will change the town for the better. The new bus-stops will also contain timetables and some town information.
"Initiated by Metinvest Group social program "We Improve the City" gives impulse to the unindifferent citizens and public organizations of Avdiivka, –– said Gennadiy Vlasov Director PJSC "Avdiivka Coke Plant"–– I want to thank them for their involving in active social life. And I`m sure our mutual efforts will change Avdiivka for the better, make it modern and safety for citizens".
The winners of the contest got certificates which provide the funds for their projects implementation. The overall budget for them amounted to UAH 250 000. Under the terms of the contest, projects will be implemented during six months.