30 May 2012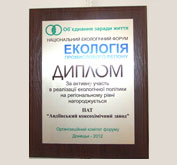 The Metinvest Group's employees of Avdiivka Coke took part in the Second International Ecological Forum "Ecology of the industrial region", organized by the State Environmental Protection Administration in Donetsk Region, supported by Donetsk Regional State Administration, Donetsk Regional Council.
The event participants visited an exhibition exposition «Ecology 2012». There were environmental protection projects, which are implemented on the regional industrial enterprises and environmental protection measures to improve environmental footprint of the regional ecosystem. The company's employees also took part in the scientific-practical conference «Investments in environmental protection is the safety territory guarantee». They discussed the topical problems of environmental protection with colleagues and shared the experience of implementation the ecologically clean technologies at the Plant.
The awarding ceremony «The leader of the environmental protection activities in 2012» by nominations was at the end of the Forum. Avdiivka Coke was awarded the Certificate of active participation in the implementation of environmental policy at the regional level.
«Avdiivka Coke Plant has received rewards for the successful implementation of environmental measures and reducing environmental impact for several years. This is the result of the implementation long term development program at Avdeevka Coke, which provides modernization of the production according to the international environmental protection requirements», — said Gennadiy Vlasov, General Director of Avdiivka Coke.
One of the most environmentally significant projects at the Plant over the past few years is the reconstruction of final cooling coke gas system with implementation of a new closed cooling technology. It provides opportunity to eliminate emission to the atmosphere at open cycle refrigeration completely. Last year re-equipment of waste-water treatment plant from phenol was being implemented at Avdiivka Сoke Plant. It increases the effectiveness of the treatment systems up to 99%.