17 May 2012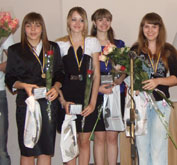 Avdiivka Coke Plant of Metinvest Group in the framework of regional partnership program gave once-only scholarships range from 150 to 500 UAH to 42 pupils from Avdiivka schools. Scholarships were awarded the winners of National and Regional School Competitions as well as the students-members of Minor Academy of Sciences of Ukraine.
In addition, gifts and souvenirs were present 17 school leavers who received medals this year including 4 gold medals receivers whose parents are Plant employees among them. The enterprise transferred 12 000 UAH to Education Department of Avdiivka Municipal Council to purchase gifts and organize the event of awarding school medals.
«Supporting the education sector is a priority direction of regional partnership program of Metinvest Group, -- said Oksana Tregubchuk, Manager of Regional Development PJSC «Avdiivka Coke». -- Our children are the main intellectual potential of the town. And we hope that gifted and talented children of Avdiivka will be interested in future career at Avdiivka Coke Plant and become our town's pride."