17 April 2012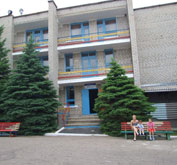 Avdeevka Coke Plant of Metinvest Group expands possibilities and improves conditions of rest and making healthy in a summer period to the employees of enterprise and their families members. For this purpose, the profile enterprise of Company Zdravitsa Plus LLC will be engaged in the development and support of such company recreational facilities as the pension "Sunny Beach" and the children's recreation camp "Danko" since 2012.
Except for Avdeevka Coke Plant recreation facilities, Zdravitsa Plus LLC will integrate the similar structural units of the other Works of Metinvest Group Metallurgical Division. And it will give opportunity for employees of Avdeevka Coke Plant to choose recreation centers for their summer holidays from among those which will join the core company Zdravitsa Plus. For example, recreation centers of Illyich Steel was glad to host Azovstal, Yenakiieve Steel and Khartsyzsk Pipe employees in 2011.
Whole recreation centers personnel will be integrated in Zdravitsa Plus. The trip cost and preferential terms will be still internally adjusted by the Plant.
«The decision to attract to the support of our recreational facilities professionals from Zdravitsa Plus LLC help us raise to a higher level of our recreational facilities: improve the living conditions of workers, food, leisure activities, etc. I am sure that the collaboration will gain a lot of advantages for employees of Avdeevka Coke Plant «, -- said Vladimir Mukhachev deputy director for personnel PJSC «Avdeevka Coke Plant».
It should be mentioned, that 1494 Plant employees and 892 their children improved their health at preferential term in last summer period.