29 March 2012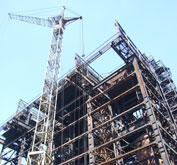 Metinvest is an international vertically-integrated metal and mining company conducts a large-scale reconstruction of dry coke quenching installation (DCQI) at Avdeevka Coke Plant. At the moment the demolition of the boilers has finished. And the demounting dust precipitation, structures and brickwork of the quenching block №2. coke shop №1 are in process.
Within the framework of the reconstruction complete replacement of equipment will be implemented as well as modernization the charging machine of DCQI, which will be equipped with automatic control system in production process (ACSPP). ACSPP improves the process of coke quenching and it has a positive impact on its quality.
In addition the upgrading process of coke charging into the coke-cooler plenum has a positive effect on the staff working conditions. Thus, automation reduces labour-intensity here, and replacement of hydroseal of charging machine to a "dry" gate permits to eliminate high stream content in this area.
Reconstruction of DCQI also makes substantial contribution to the improving the overall energy plant efficiency. Produced by dry coke quenching installation steam use in the heat electropower station for additional electricity generation. Putting into operation of the quenching block No.2 will allow to receive an additional 25 tons of steam per hour.