22 March 2012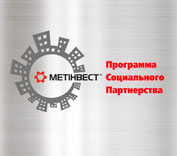 Metinvest, a vertically integrated mining and steel group of companies, is announcing a new corporate social program "We Improve the City" in Avdiivka, which will be implemented by PJSC "Avdiivka Coke". Within the framework of the program: project contest will be held followed by funding of the most timely projects for the citizens prepared by nonprofit organizations, municipal institutions and respectively by people of Avdiivka.
The purpose of project contest is involvement of the city's residents in the development and realization of the projects intended to solve and alleviate the existing social problems, to form long-term, sustainable positive social change and improve the life quality of residents. To take part in the contest for the best social project the city's public organizations, municipal institutions and initiative groups will independently have to formulate the issues of concern, to substantiate their relevance for Avdiivka and to suggest the solutions.
In 2012, the priority projects of the competition are: popular sport elaboration and cultural development, educational technology, up today infrastructure solutions, energy-saving technologies, volunteering.
The projects will be assessed by the Council of Experts by the following criteria: the demand for and the feasibility of the project; clearly formulated issue of concern; compliance with the priorities of the contest; the degree to which the project idea has been developed; project originality; the social value of the issue in the given project etc.
The winners of the contest will be provided with the funds for implementation of their projects based on the concluded contracts in the amount approved by the Council of Experts. The amount of funds per project may be as high as 50 000 UAH.
"Avdeevka is a small town, but there are a lot of problems associated with the landscaping. Initiated by Metinvest the Program "We Improve the City" allows every citizen and community organizations of Avdiivka to be involved in active social life not to be a random observer. At the present time they have an opportunity to make suggestions and to take part in the development of projects to improve the life quality of the people of Avdiivka, focusing on the priorities of the Programme ", -- said the Regional Development Manager PJSC "Avdiivka Coke" Oksana Tregubchuk.
The contest application form will be accepted from March 26 till May 11. The contest documentation and conditions to participate are available on Metinvest Group's website in section "Responsibility", subsection "Corporate Social Programs".
http://www.metinvestholding.com/en/csr/community/corp_programs