27 February 2012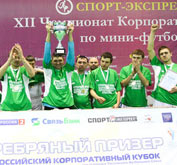 Football team of Avdiivka Coke Plant included in Metinvest Group was the silver medalist of the II All-Russian corporate cup. Football competition was on February 12 on the base of Moscow sports complex "New League" among the employees of the best corporate teams in Russia and Ukraine. In total 36 football teams took part in the competition.
Last year football team "Metinvest – Avdiivka Coke" was the winner in the mini-football competition of the Corporate Division "Business-League. Autumn 2011" among the commercial enterprises of Donetsk city and Donetsk region. This football team includes the representatives of the workshop teams of the structural divisions at PJSC "Avdiivka Coke". Being the winner of the championship the football team "Metinvest – Avdiivka Coke" took part at the All-Russian corporate cup.
Football promotion is one of the promising trends of corporate social responsibility of Metinvest Group. Thanks to the company this kind of sports is being available for all ages. So within the framework of the program realization called "Development of football for children and young people" Metinvest in partnership with Football Club "Shakhtar" the football school for children had been created at the Palace of Culture, Techniques and Sports of PJSC "Avdiivka Coke". Also last year new football ground with artificial turf was built meeting the requirements of new modern standards.
"The victory of our plant's football team in the sports competition of international level was possible not only due to will to win of our employees, but also due to team spirit joined by general aim. The management of the plant in its turn will further support the effort of the employees to lead a healthy life, to be fascinated with football and to achieve good results" said Gennadiy Vlasov, the general director of PJSC "Avdiivka Coke".