1 February 2012 // Press centre PJSC "Avdiivka Coke Plant"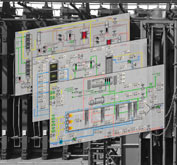 Metinvest is an international vertically integrated metal and mining company within the framework of constant improvements implements the manufacturing execution system (MES) at Avdiivka Coke in order to plan, coordinate and optimize the production output.
At the moment the first stage of MES implementation is complete. During this period the various performance indicators were systematized which are received by the computer process control equipment. Due to it the preparation of the daily operator's report is now computerized, it allows to cut time to create the final document per 24-hour period as well as the information intended for the managers became more accurate. The one communication platform was created and MES is to be implemented on the base of it. As MES the product of American company Honeywell is used.
The next stage is to develop and insert data regarding the production quality that makes possible to control quality at all production stages and create computerized lab tests base. Hereafter security monitoring, environmental production, production assignments, key figures, materials and stock balance management tools, balance of power and material flows and stocks are going to be added to the system.
Within the framework of MES Project the computer process control equipment is actively realized at Avdiivka Coke Plant. At the moment the computer process control is in operation in 8 shops of the plant where the level of automatic performance is from 30% to 70%.
At the final stage of the manufacturing execution system (MES) implementation the unique management system is going to be developed at Avdiivka Coke Plant that is directed to combine the operative technical information with finance and material and technical resources of the plant which are processed by ERP-system at the plant.
"The implementation of the operative technical information at Avdiivka Coke Plant will increase information awareness of the staff concerning the production process and quickly receive production data in real time-mode. MES allows analyzing and controlling the work on the level of the production plans execution where the basic plant's costs are effected and the possibilities to use resources more effectively are concealed", - said Gennadiy Vlasov, the general director of PJSC "Avdiivka Coke".
Description:

Manufacturing Execution System (MES) is the dedicated software to synchronize, coordinate, analyze and optimize the production issue at the place of production. This system includes planning and control of production assignments, production supervision, quality control and history of production process at the various production areas, provide the current output data, residual stock and raw material data. MES is the important tool to be used in Lean Manufacturing. Among the large industrial plants where the Manufacturing execution system is implemented from Honeywell are BHP Billiton, ExxonMobil, BASF, ALCOA, CODELCO.
ERP-system is the integrated information system to manage all the internal and external plant's resources. ERP-system is created on the basis of centralized database, it forms the single information space of the plant.